Plants and People: Our Ethnobotany Offerings
We have more events coming in 2018 – unique classes, guest teachers, special events for members only, and the Ethnobotany Festival & Symposium in the fall. Read more below about our educational and community offerings. Please sign up on our mailing list to be informed so you may join us. Spring classes will be announced soon.

Meanwhile, at Botanical Dimensions we continue tending our long-term projects: The Mazatec Project in Mexico, the Amazon Herbarium Project in Peru, the Forest-Garden in Hawaii, and of course our hub: The Ethnobotany Library in Occidental, in West Sonoma County, in Northern California. All our work protects and distributes knowledge about plants, cultures, and how they weave together over the time. Your donations or memberships help keep these many projects afloat — Thank you all for your interest and whatever support you can spare. Much appreciated.
Wildfire sweeps the North Bay hills
Our North Bay counties (Sonoma, Napa and Mendocino) have just survived massive wildfires. Over 100 square miles were burned. The elements took over for awhile, as wind and fire moved over the land and across the cities too. We are all very shaken by the losses, the fear, and now by the magnitude of restoring the hills and valleys, the streams, roads, homes, farms, businesses, clinics, schools, and lives that will be forever different. There are many good projects to help the thousands of displaced people, but this one deals especially with the undocumented people who are a key part of how our agricultural county operates. They and their families are homeless and yet still working, still very much needed, as they are key members of our community. Yet, due to lack of documents and our federal policies, they often are unable to get help from other agencies. Undocufund.org will help the displaced families who are undocumented, in case you'd like to give there too.
Recent events included these:

Big Botanical Beings in Modern Culture: A speculative workshop on the roles of Magic Mushrooms, Peyote & Ayahuasca  
One full day of rich presentation & discussion on this timely, deep and perplexing subject. Kathleen Harrison's expertise is based on decades of fieldwork in various cultures. If these plants and mushrooms are characters in the Great Story, along with humans, what role do they each play? Whenever we offer this exploratory topic, it generates such good discussion and  food for thought. Saturday, Sept. 9, 2017.  $85 ($75 for Library members). To register and find more information go to  http://BBBeings.bpt.me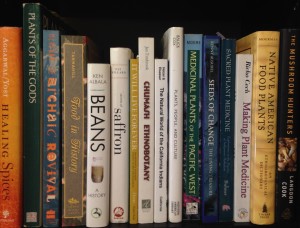 Our first BOOK EXCHANGE & SALE in Sept. 2017 was a great success! Next one will be in 2018.
Bring your books that are relevant to ethnobotany, nature, anthropology, mythology, indigenous studies, botany and mycology, the fungi, shamanism and psychedelic species, herbalism, food plants, gardening, botanical illustration, storytelling, even fiction about plant people ~ Please be sure they are in good condition and relevant. What we don't sell or keep will be donated to our local public library. 
In addition to what you all bring, we'll be selling our own duplicate copies from our collection, and we will offer some special things for sale from the BD and Harrison-McKenna family archives. A bit of art too, plus some things from the  magic mushroom era of the 1970s and 1980s… a gorgeous Huichol painting…  $5 donation requested for entry.
If you want to donate books for sale/trade (or maybe we'll add them to the Library), but you can't attend the sale, we welcome your donation! (Please keep it within the wide range of topics we define above.) You may drop books by on Thursday, Sept. 14, 11am-6pm. Reminder: We are at the intersection of Bohemian Hwy. and Graton Rd., at the north end of tiny Occidental CA. 3830 Doris Murphy Ct., Occidental CA 95465. Phone 707-874-1531 or info@botanicaldimensions.org  — Also, the very charming Occidental Farmers' Market happens just up the street on Fridays, 4-7 pm. So you can find good meals there as well as local color, music and local organic vegetables. (We timed the sale to coincide with it.) Regional folks, please come! Faraway folks, we wish you were here…
Sweeping the Mountain of Nerves: Traditional Techniques for Finding & Keeping Balance – with Kathleen Harrison -  October 14, 2017
A special workshop in methods of grounding, cleansing, protecting & renewing oneself & others — using plants along with intention, symbolism, and time-honored traditions. Kathleen Harrison shares what she has learned in years of fieldwork among indigenous cultures and life itself. Lecture, discussion and hands-on experience. Workshop on Saturday, October 14, 10am-4pm. Must register in advance. Tickets $90 or $80 for members of BD's Ethnobotany Library.  Must register in advance, at http://sweepingmountain.bpt.me
NOTE: This class fills quickly when offered, and the Oct. 14 session is now full. Please email us at info@botanicaldimensions.org if you would like to receive an early announcement for the next time we offer it.
Cannabis and Spirituality: An Explorer's Guide to an Ancient Plant Ally
On April 15, 2017, we hosted this special event, featuring readings and talks from authors of this thought-provoking new book, at the Occidental Center for the Arts.
Stephen Gray (editor too), Martin A. Lee and Kathleen Harrison gave talks and readings, then discuss this deep topic onstage with each other and with
the audience. In late 2017, we plan to release the video of this unique evening.
Botanical Illustration: Learning to really see & portray plants—with Donna Torres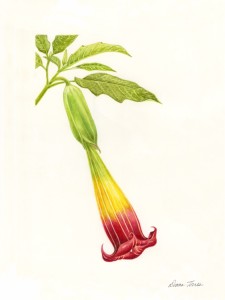 We were thrilled to have a very special artist as our guest teacher. Donna Torres taught this wonderful workshop on Sat. May 13, 2017, assisted by ethnobotanist and illustrator Kathleen Harrison. Donna helps you learn to truly see a plant's form, and from there guide you in how to portray it realistically in graphite and watercolor. A great meditation on form and beauty. Materials provided. All levels welcome, including beginners. 10am-4pm in the classroom adjacent to BD's Ethnobotany Library, in Occidental, CA. 
Note: We hope to have artist Donna Torres and plan to have others teach botanical illustration  in 2018. Join our mailing list to be kept informed.
Global Ethnobotany with a Local Focus - A 4-part series 
A popular 4-month series, one Saturday per month. A survey of the breadth and depth of cultural relationships between plants, fungi and humans—from ancestral folk knowledge to 21st century practices. Group study, discussion, excellent participants. Slideshows, stories, books, walks in local nature to learn local plant uses. Spring 2017. Sign up on our mailing list to hear when this will be offered again, during the spring of 2018.

Ethnobotany of Food Plants & Spices: Their Stories in Our Story –  A weekend workshop on the ethnobotany, botany and history of what we love to eat. Revelations to deepen the experience of each meal you'll ever eat. Lots of anecdotes from the long story of spices to tales of Amazonian cuisine. Know the stories of what you grow in your kitchen garden. Two days with a small group of interested folks. Can be arranged by special request.  
Sign up on BD's email list to be alerted about coming events, and when tickets go on sale. Or check back here soon, or on our Facebook page.
•  •  •  •  •  •  •  •  •  •  •  •  •  • •  •  •  •  •  •  •  • •  •  •  •  •  •  • •  •  •  •  •  •  • •  •  •  •  •  •  •
Botanical Dimensions' Origin & Mission
Botanical Dimensions has been doing good work with plants and people for over thirty years. Founded in 1985 by Kathleen Harrison and Terence McKenna, this non-profit organization is dedicated to ethnobotanical knowledge in its myriad forms.
Our original mission was "to collect, protect, propagate and understand plants of ethno-medical significance and their lore." We do all that and more. We work to preserve biodiversity, respecting natural ecosystems and traditions of ecological knowledge. We appreciate, study, and educate others about plants and mushrooms that are felt to be significant to cultural integrity and spiritual well-being. We share what we learn.
Our Ethnobotany Library welcomes you
Our purpose and passion are rooted in the folk-knowledge and uses—both traditional and contemporary—of the flora and fungi of our little planet. Ethnobotany—the relationship between plants and people—is the primary lens we look through in choosing our projects. Ethnobotany is a vast, branching area of study, filled with marvels, challenges and solutions.
The themes of our projects illustrate some of the branches of ethnobotany and ethnomycology. In 2016, we are thrilled to announce the opening of our Ethnobotany Library. Please lend your support to this unique, non-profit offering. See the blog post about it for details. We also engage in these kinds of activities:
Fieldwork in various cultures, particularly among indigenous peoples of the Americas
Document folk uses of plants and fungi, with photography, audio and video recordings, participatory observation, and ethnographic writing
Assist cultural revitalization projects involving plants, fungi and knowledge of nature
Support local experts in preserving botanical species and herbarium collections
Make the ethnobotanical perspective and its cultural techniques available to a wider appreciation, through teaching and sharing information and images
Sponsor field courses that foster global ethnobotanical awareness, with specific, hands-on, cultural experiences
Educate and empower students to recognize, observe and document plant uses
Protect or restore native species in disrupted natural habitats
Consider the ecological history of a given place, and how that affects the perception and stewardship of nature by humans
To read about current and ongoing projects click here.
Save
Save
Save
Save
Save
Save
Save
Save
Save
Save
Save
Save
Save
Save
Save
Save
Save
Save
Save
Save