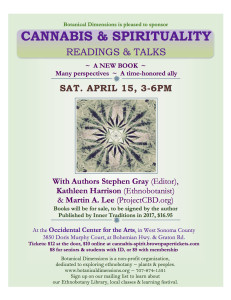 Saturday, April 15, from 3-6PM. At the Occidental Center for the Arts, adjacent to BD's Ethnobotany Library. Tickets available at the door, or now at http://cannabis-spirit.brownpapertickets.com
Cannabis and Spirituality – An Explorer's Guide to an Ancient Plant Spirit Ally – is a thought-provoking new book. Editor Stephen Gray (Returning to Sacred World) and ethnobotanist Kathleen Harrison will read from their chapters in the book, and talk about spiritual, ritual or meditative relationships to this profoundly influential plant. Martin A. Lee (author of Smoke Signals: A Social History of Cannabis, and Acid Dreams) will speak as well. The authors will hold an onstage discussion with each other and audience, exploring questions about the breadth of spirituality, the many ways it may be experienced in regard to cannabis, and the many-faceted role of cannabis in these times.
Reserve your spot by purchasing your ticket online here.
Before the talks or during intermission, visit Botanical Dimensions' adjacent Ethnobotany Library, which is filled with books about plants, cultural beliefs, herbal medicine, mushrooms, mythology and much more. Kathleen Harrison and others teach a variety of ethnobotany classes there. To receive email notice of coming classes, events, and news of BD's exciting projects, please sign up on the email list on this page.