We have some great learning opportunities coming up in 2018. Kathleen Harrison and guest teachers will offer all-day and half-day classes on a variety of topics, beginning in March.
4-part

Global Ethnobotany with a Local Focus

, taught by Kathleen Harrison over 4 months, with nature walks.

The Art of Seeing, Drawing & Painting Plants

: a weekend with artist Donna Torres and Kathleen Harrison

Who is Tobacco?

An all-day workshop that examines a variety of spiritual and protective uses of this complex plant teacher. With seeds and samples for cultivating your own healthy ally. (This plant is not all shadow.)

Plants and Cultures of the Motherpeace Tarot

, taught by this classic deck's co-creator and artist, Karen Vogel.

Sweeping the Mountain of Nerves

– Universal techniques in cleansing, grounding and protecting yourself or others, with Kathleen.
Our biennial Ethnobotany Festival & Symposium will happen again next harvest season. The first one was spectacular, so be sure to not miss the next one. All ages welcome.  You'll just have to come visit the festival, our library, and the beautiful redwood forests of West Sonoma County. Then swing by the spectacular Sonoma Coast, while you're so near it. In September, exact date to be announced soon.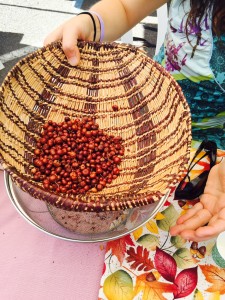 Native plants provide food and basket material, in the skilled hands of native people.