At Botanical Dimensions, we are excited to announce the public opening of our unique Ethnobotany Library here in West Sonoma County. Our collection begins with one thousand books and journals from the collection of ethnobotanist Kathleen Harrison and several other generous donors. Please come celebrate our opening day, peruse the wonderful range of books, and talk with Kat in person. We'll share with you the richness of the books and our displays of ethnobotanical artifacts from decades of fieldwork. Our volumes include many aspects of the plant-human relationship: botany, mycology, ecology, native practices, history of food, traditional plant uses, herbalism, pharmacology, anthropology, mythology, art, ritual, shamanism, visionary species, and many diverse world views. Refreshments will be available. Come meet interesting people who love plants, mushrooms and culture. If you can't make it this time, become a member and visit in sometime in the future.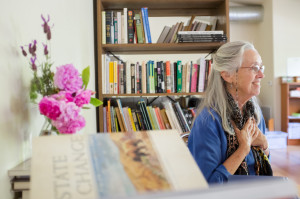 Opening day is this Saturday, Nov 14th, 2015
12 noon – 5pm
3pm - there will be a demonstration by Saskia Wolsak about traditional cordage, and how to make string from plant material.
4pm - Kathleen Harrison will offer a welcome to the library and a glimpse of the breadth and depth of global and local ethnobotany.
The Botanical Dimensions Library is located in the town of Occidental, a 90-minute drive north of San Francisco, in lovely West Sonoma County.
Occidental Center for the Arts
3830 Doris Murphy Court, Occidental, CA 95465