Plants and People: Our Ethnobotany Offerings
Thank you for supporting Kat
We are incredibly grateful for the generous support given to Kat during this difficult time as she recovers from violence. It is beautiful to see how many lives she has touched and how valuable she is to our community.
Because of your generosity, we have met and exceeded our goal! The funds raised will not only help cover her medical and personal expenses and lost earnings, but we have also raised enough to support her through her healing process and beyond so that she will have time to focus on writing a book.
In her own words: "I am simply overwhelmed, honored, and grateful beyond words for this outpouring of generosity. It will support the next stage of my life, my recovery, and my writing. Big, warm thanks to each and every one of you."
So many have given in honor of Kat's inspirational teaching and profound influence on our communities and our movements. We are thankful for this chance to give back her and thankful to every one who has contributed.
We will leave the GoFundMe up for a few more days so that everyone who wants to has had a chance to connect with her story. We are so lucky to have our amazing teacher and to be able to keep learning from her.
With deepest gratitude,
Kat's family and friends
GoFundMe for Kat Harrison: gofundme.com/f/help-kat-harrison-recover-from-violence

End of Year Update coming soon…
We are raising funds for Botanical Dimensions for 2021 and we need your support to continue our organization's work in California, Mexico and Hawaii.
We appreciate the generosity and connectedness of our community at this time. We will provide an update very soon about our work this past year and our goals for the next one, so please watch your inbox. We look forward to receiving your messages and gifts this season and hope you are keeping well.
———————————————————————
Thanks to all who made our Book Sale a successful fundraiser. We hope to sell more of our extra books online in 2021.

Ethnobotany Book Sale & Fundraiser 
Saturday, September 26, 11am-5pm  
Featuring collectible books and art, some signed by authors.
We also have many fine used books for sale in the $5-20 range.
We will have books for sale on all ETHNOBOTANY-related topics: Medicinal & food plants. Fibers & dyes. Native knowledge. Psychedelics & cannabis. Gardens & cultivation. Cultural histories & mythology. Fungi too!
Find holiday gifts for your favorite plant people.
Attendance is limited – Register today

We have decided to have a socially-distanced, masked and hygienic, outdoor book sale. Our annual sale-fundraiser was postponed last October due to wildfires, and in March due to Covid. We have so many great volumes to pass on, and need the financial help in these times. The sale will be at the Occidental Center for the Arts, where the Library is situated, but out in the open-air amphitheater.
In order to be sure that serious book buyers who want to can get in, we are using a reservation system. While we wish this event could be held more in the spirit of gathering, given the circumstances we have to focus on the nature of this event being a fundraiser.
We welcome your support — Help us disperse these many fine books.
We are sincerely hoping to sell many of our books that day, both the pricier collectible and valuable ones, and the massive number of 'good deals' for very reasonable prices. Welcome, plant-loving readers and collectors!
[These are books that have been donated or purchased for sale, not the BD Library collection. The Ethnobotany Library has not yet reopened.]
———————————————————————
June 2020 – The situation as of now
The Ethnobotany Library is closed due to the Coronavirus, at least through June, 2020. Check back to see when we will open again. We have no in-person summer classes planned at this point, but we may have a few online or in a spacious outdoor setting. We had to postpone our annual Book Sale & Swap, an important fundraiser, for the third time! (First time was November, 2019, during the wildfire evacuations, then in March, and again in June, due to ongoing safety concerns.) We look forward to gathering when we are all doing better. We did just reschedule the June 20 class to be online, see below.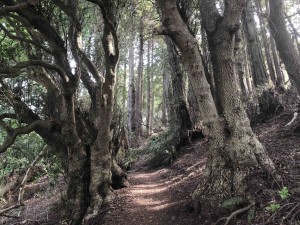 In the meantime, please take care of yourselves, each other, and the most vulnerable among us. Call upon the plants and plant knowledge to help with immunity and recovery. Remember nature, take a look when you can.
Strange times, indeed, but every crisis is a threshold too. May we find our collective inner strength and wisdom in these times.
Here is the link to our newsletter of March, 2020, just before the shelter-at-home order. Join the mailing list if you'd like to receive our occasional newsletters.
We are looking forward to this: Our 3rd Annual Ethnobotany Book Sale & Swap
–

A fundraiser for the Ethnobotany Library and a gathering of plant people and bibliophiles

Thrice postponed! Now planned for late summer 2020

or when possible. Stay connected via our newsletter and social media for updates.
Books for sale on all ethnobotany-related topics:  Medicinal & food plants. Fibers & dyes. Native knowledge. Psychedelics & cannabis. Gardens & cultivation. Cultural histories & mythology. Fungi too!   Find gifts for your favorite plant people.
Highlights of the day will include:
– Many fine used books for sale in the $5-20 range
– Collectible books and art, some signed by authors
– FREE BOOKS on our swap table – Bring a few, take a few
Readings by authors, from their new books
Join us at

Botanical Dimensions Ethnobotany Library

, located at the Occidental Center for the Arts in charming downtown Occidental, at Bohemian Highway and Graton Road.  
3830 Doris Murphy Ct. Occidental, CA 95465
——————————————————————————————————————————————
Botanical Illustration Classes, with artist Paetra Tauchert
 Astro-Botanical Illustration: Drawing Your Solar Plant Talisman
ONLINE Saturday, June 20- 10am-3pm
In honor of the Summer Solstice, we will draw a plant that corresponds to the planet that rules our Sun sign, in vivid colored pencil and pan pastel.
NOTE: This class will happen online. We will set up registration for it by June 8.
Paetra will personalize her plant choices for you to draw, based on your sun sign. She's a wise, humorous, artistic astrologer and we are lucky to have her.

——————————————————————————————————————————————
January, 2020
We are grateful to our donors, our library members, our volunteers, and all of you who further the field of study named Ethnobotany – the study of the ancient, current, and evolving relationship between people and the worlds of plants and fungi. All of you keep Botanical Dimensions going.
MANY THANKS to all of you who donated in our December 2019 fundraising push. We appreciate every donation and donor. This season's gifts are entirely devoted to keeping our exceptional Ethnobotany Library open to visitors, members, and the community of nature-loving bibliophiles through 2020. The Library is the hub of our educational program. We will announce our Spring class schedule soon.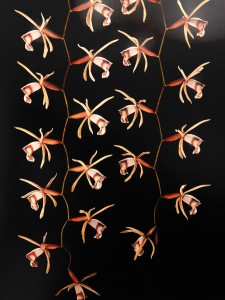 We already know that our fantastic annual used book sale will be on Saturday, March 21, 2020. Please put it on your calendar! A perfect day to carpool with friends to the countryside of West Sonoma County, and go home with unexpected treasures in your book bag. Visiting us makes a rich day-trip from anywhere near San Francisco Bay.
We are grateful for your support, and gladly accept donations year-round. Our Education Program relies on the gifts and endorsement of you all — and we appreciate your generosity. Click through to the DONATE page to support the Ethnobotany Library, our public programs, or our other ongoing projects.

We welcome you to join us, nearby or remotely, in supporting this field. Come to our classes, visit our library, attend our special events, and become a member of the Ethnobotany Library for only $35/year. At the very least, please join our mailing list (see signup form on this webpage), so that we can update you on our offerings. In 2020, we plan a new website and more online offerings for those who live far away.
We are also grateful to the land where we are situated, which is the territory of the Coast Miwok and Kashaya Pomo peoples, in California's North Coast Range. And our gratitude extends to the courageous services of the firefighters and extended community that kept us safe during the fierce wildfires of 2017 and 2019.
Due to the evacuations during October 2019 fires, we had to reschedule our annual Book Sale & Swap, which is a fundraiser that we rely on for our survival. It is now rescheduled to Saturday, March 21, 2020. Please stay tuned for our lineup of authors who will be reading from the their books, and other highlights.  We offer for sale the kind of range that our library holds — hundreds of fine, used books within the spectrum of plants, people, fungi, folk knowledge, storytelling, science, foods, fibers, herbalism, history, and more. We also have readings by recent authors, art for sale, plants for sale, as we gather a lot of fine folks for a day of exchange.
Our regular hours are Tuesdays & Thursdays 11am-4pm, 2nd Tuesday of each month open until 7pm, and the last Saturday of each month, 11am-3pm  ~ 
Come visit the books, have a cup of tea, and * if you are enchanted * become a member of the library. 
Please sign up for our occasional newsletter, and follow us on social media.
Past events:
Special Book Launch ~ Sat. November 9, 2019, 6:30-9:00pm
An evening of readings from this new book, and a fascinating onstage conversation — with authors Kathleen Harrison, Annie Oak, and editor Chiara Baldini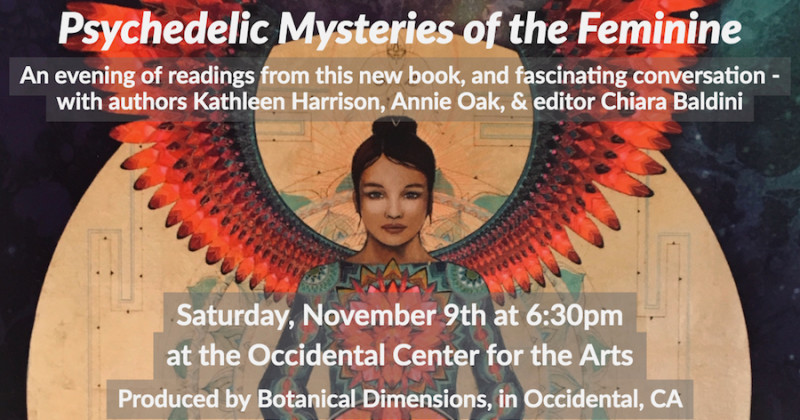 This event is a much-needed fundraiser for our Ethnobotany Library & our unique education program.
We will read from the book, and share our thoughts on principles and actions of the Feminine — as learned in the psychedelic experience — such as compassion, insight, activism, deep nature awareness, reciprocity and resilience.

 Join us at Botanical Dimensions Ethnobotany Library, located at the Occidental Center for the Arts in charming downtown Occidental, at the intersection of Bohemian Highway and Graton Road: 3830 Doris Murphy Ct. Occidental, CA 95465
Please sign up for our occasional newsletter, and follow us on social media.
Fall Botanical Illustration Series
Astro-Botanical Illustration
Saturday, September 14- 10am-3pm
Artist Paetra Tauchert will bring an astrological lens to experienced instruction on how to see and draw botanical images with pan pastels.
Details and Registration:
https://astro-botanical-illustration.bpt.me/
Drawing the Harvest
Saturday, October 12 – 10am-3pm
Artist Paetra Tauchert will teach us how to draw a live botanical specimen chosen from the cornucopia of autumnal fare.
Details and Registration:
https://drawing-harvest-2019.bpt.me/
Drawing Fall Leaves
Saturday, November 23 – 10am-3pm
Artist Paetra Tauchert will lead us through a close examination of fall leaves and the amazing colors and forms present this time of year.
Details and Registration:
https://drawing-leaves-2019.bpt.me/
Our Booklore Series, with Kathleen Harrison:
Mazatec Folktales of Magic and Spirit
Sunday, September 8, 2019, from 3-6pm
Kathleen Harrison has collected written and oral stories over 24 years of field work among the Mazatecs. Come spend an afternoon in our unique library, as you listen to her read translated stories and share her perspectives.Folktales offer insight into a culture's worldview. With all the current interest in psilocybin and Magic Mushrooms, we must remember that the key knowledge-holders for centuries have been the indigenous Mazatec people of southern Mexico. Beneath their ritual practices lie generations of stories about how their world came to be, and how their world works in spirit and nature.Proceeds from this event will go to Botanical Dimensions' Mazatec Project, which supports education and cultural heritage preservation for a four-generation Mazatec clan.
Class Details and Registration: https://folktales-mazatec.bpt.me/
Please note: space for this class is limited and we will not be able to facilitate last-minute purchases. Please register in advance.Please make a donation to support the Mazatec Project in its 25th year. We are fundraising to produce a documentary film about the lives of a four-generation Mazatec clan, and their longstanding friendship with Kathleen Harrison and her family.
More classes coming soon! Stay tuned to our newsletter- sign up with the form on the right side of this page.
Classes and Events – Spring and Summer 2019
Whether you are new to Botanical Dimensions or have previously taken our classes, we look forward to sharing with you a special way of looking at the world, in which everything is alive and in relation to everything else.
Join us to learn about a broad spectrum of topics in the amazing realms of ethnobotany and ethnomycology.
Botanical Elements of Ritual 
Saturday, March 23 – 10am-4pm
Learn about universal forms of plant-related rituals, which are rooted in cultures around the world. Kathleen Harrison will weave methods into a memorable story, invoking intuition, healing, protection, ancestors, and courage. Wherever your people arose from, there are ways of working respectfully with nature's intelligence, principles of ritual, and your own roots to be genuine in your plant relationships.
Details and registration: botanical-ritual-2019.bpt.me
Kat is has just come back from fieldwork in Mexico to continue to document the ever-changing world of the close-knit Mazatec clan she has been friends with for many years.If you would like to support our Mazatec project, or our other projects, please click on the link to Donate. All donations over $35 include membership to the Ethnobotany Library for a year. We appreciate all contributions large or small. Please consider a recurrent donation or membership- DONATE here now.
Thank you for your ongoing support. We hope to see you soon.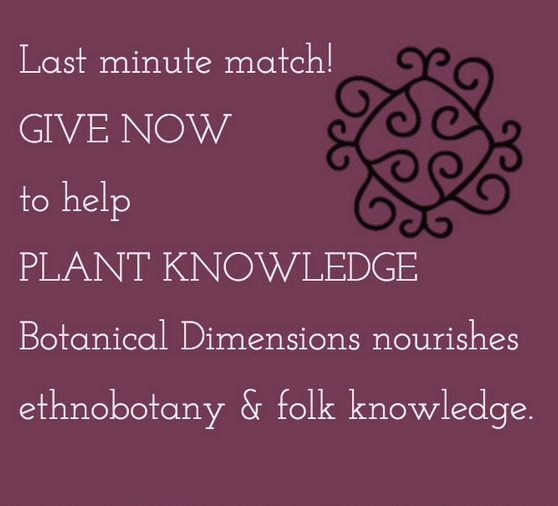 We love our donors. Are you one? We especially appreciate recurrent donations. Just check the donation page for how much and how often you can offer to support our work. But of course we are grateful for support of any size, whenever and however it arrives. We are a small yet persistent nonprofit organization in our 34th year. We are dedicated to the global knowledge about and uses of plants and fungi. This knowledge is as old as humanity, inseparable from our survival. Plus, it is fascinating and beautiful to be educated about the natural world and patterns of relationship. We welcome you to learning more.
Our Spring classes and 2019 goals will be announced here very soon. Join our mailing list to be kept informed about our international work, and also when event schedules and ticket sales become available.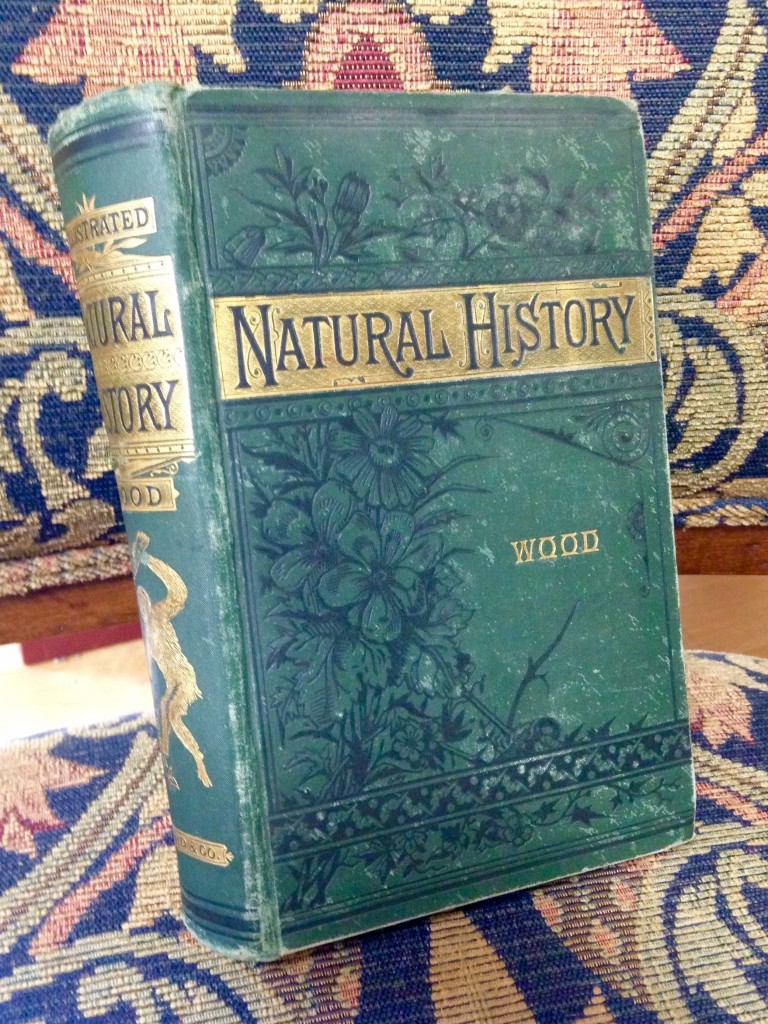 BOOK SALE & SWAP

, at the Ethnobotany Library, Sat. Dec. 1, 2018.
Bring a few books to swap. Find all sorts of books related to ethnobotany, for sale from $5 to $500. Some are signed first editions, and we will have some special collectible art too. Spend the day among fine books and cool bibliophiles. Subjects include plants, mushrooms, herbs, stories, history, psychedelics species, and our old cultural companion, cannabis. Readings by visiting authors begin at 2pm. At our Ethnobotany Library, in West Sonoma County, CA, at the Occidental Center for the Arts.
AND THIS IS THE SEASON TO SUPPORT GOOD WORK, LIKE OURS! Please donate to help us continue our legacy — to collect, protect and propagate the knowledge and lore of plants, mushrooms, and the ways they enhance human knowledge. We count on you and folks like you, to keep us going into our 35th year of doing good work. DONATE here now.
Thank you for supporting our work with plants of cultural significance.  Botanical Dimensions is a small organization that is in its 34th year now — We are still plant people. Still looking, listening, helping where we can. We continue to collect knowledge through experience, to cultivate more animated relationships with plants and fungi, and to share what we learn, in various ways. It's a good path to be on.
Fall Classes and Events 2018
We are working on our new new website, and look forward to sharing it with you. Meanwhile, we continue producing our unique events and classes, at the Ethnobotany Library we curate, in Northern California.
Please see our most recent newsletter (October, 2018) to view and register for our autumn events and classes.
Note that Kathleen's Botanical Elements of Ritual class has been postponed until Spring 2019. 
Stay in touch and informed by subscribing to our newsletter (see form on right).
We appreciate any donations to help us share ethnobotanical knowledge. You may donate or join our Library membership here. Follow PROJECTS to see our longstanding work in the world. Click on WHAT IS ETHNOBOTANY? to examine that question. And visit our Ethnobotany Library when you can. We'd like to meet you. ~ Thank you ~
—————————————————————————————————————————————-
Past classes & events – Some that we will offer again 

In the spring of 2018 we have new classes to offer, as well as some old favorites. We hope you will join us for one or a few of our educational offerings, to learn about all manner of things ethnobotanical, and to spread the knowledge of plants far and wide. These are all taught at the classroom adjacent to our Ethnobotany Library, in Northern California.
Click on the links to see more information and to reserve your spot through Brown Paper Tickets.
Botanical Illustration: The Art of Seeing, Drawing & Painting Plants
– Saturday, March 3 and Sunday, March 4, 2018. 10am-4pm
An expansion of our 2017 Botanical Illustration class. Join us for one or both of these classes, taught by returning guest artist, Donna Torres, and our artist-in-residence, Kathleen Harrison. The first day's class will teach how to really see and draw plants, and the second day we will follow up with teaching how to create a beautiful watercolor portrait of your plant. Beginners welcome, and those who have drawn plants may sign up for both or for the Sunday only. Details and registration: botanical-illustration-2018.brownpapertickets.com/
Global Ethnobotany with a Local Focus
– A 4- part series, beginning Sunday April 8, ending July 14
A beloved foundational ethnobotany course taught by
Kathleen Harrison
. Learn about the rich history of Northern California ethnobotany, as well as  comparative ethnobotanical practices from around the world. Kat shares many engaging stories from her fieldwork. Held partly outdoors; enjoy immersive plant walks and learn plants used in food, medicine, ritual and materials. Details and registration: 
global-ethnobotany-2018.brownpapertickets.com
/
Who is Tobacco? Ways of Seeing this Twilight Plant
– Saturday, April 21, 2018. 10am-4pm
Explore the spiritual character and protective uses of this complex plant teacher, from various cultural traditions. This nightshade species is alive with both gifts and shadows — both powerful prayer medicine and a very tricky spirit being. Domesticated by indigenous people of the Americas, tobacco took the European colonizers by storm, after which it swept around the world. We are still vacillating in that confusion — foul taboo or sacred ally? Let's look at various tobacco species and their traditional roles, myths and powers.  Ethnobotanist Kathleen Harrison has a long and thoughtful relationship to Nicotiana species, based on her fieldwork with native peoples and her personal explorations of plants on the edge of acceptability. This is the first time Kat has taught this unique class in years, but it is often requested. Almost full as of April 15. There will be no entry without prior registration. Details and registration: who-is-tobacco-2018.brownpapertickets.com
Motherpeace Tarot through the lens of plants, cultures and healing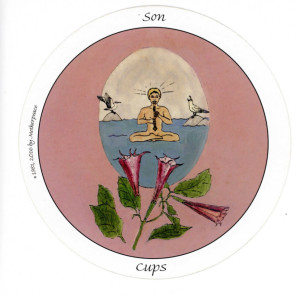 – Saturday, May 19, 2018. 10am-4pm
Artist and co-creator of the classic Motherpeace Tarot deck, Karen Vogel, will share the meaning, myth and inspiration of plants and indigenous cultures in these beloved tarot cards. Kathleen Harrison will moderate and give ethnobotanical context. Karen will teach techniques for drawing on the wisdom of the cards. An interactive workshop. Motherpeace decks will be available for use and purchase. Details and registration: motherpeace-tarot-2018.brownpapertickets.com/
Picturing Plants: Cyanotype and Botanical Drawing as Tools for Depicting Nature
– A full weekend! Sat., June 2 and Sun., June 3, 2018. 10am-4pm + a Saturday evening talk with artist Klea McKenna
Represent the beauty of plant forms in two mediums, with a mother-daughter team: visual artist Klea McKenna and ethnobotanist Kathleen Harrison.
Learn observational techniques that  lead to realistic representation as well as abstraction and patterning with botanical forms. Hear highlights of the history of botanical art and early techniques. But the days will be mostly hands-on learning and making art. Kat will show us botanical illustration with graphite pencils, pen-and-ink, and colored pencils and Klea will teach the early photographic technique of cyanotype printing, which uses plant forms, light-sensitive emulsion on paper and sunlight. Then you may combine these approaches. Take home unique art that you've made. Details and registration: 
picturing-plants-2018.brownpapertickets.com/
Big Botanical Beings: The Roles of Ayahuasca, Peyote & Magic Mushrooms in Times of Change
– Saturday, July 21, 2018. 10am-4pm
This popular class is being offered once more. Join this informative and speculative workshop with ethnobotanist Kathleen Harrison. From both animistic and biological points of view, we will consider the roles of these powerful entities in indigenous history, contemporary culture & global consciousness. Bring your questions, leave with new questions. This class always sells out way ahead of the date!
Stay tuned for more updates from Botanical Dimensions by signing up for our mailing list. Thank you for all of your support — we look forward to another great year. Note that at this time we are planning to host the Ethnobotany Festival & Symposium again next year, in 2019. In the meantime, if you are in the region, do come visit us at our remarkable Ethnobotany Library. We are always open Tuesdays and Thursdays, 11am-4pm.  We have recently added new open hours for those who can't come on a weekday: The first Tuesday of each month, from 5-7pm, and the last Saturday of each month, 11am-3pm. We'll make you a cup of tea and you may find another interesting person to talk with about books and plants. Or just read any or many of these marvelous books, and learn.
* * * * * *
Ethnobotanist and co-founder Kathleen Harrison muses for the new year—Happy New Year and thank you to those who donated to our Education Fund! We met our first fundraising goal for 2018, and we are grateful to all who gave and who shared our requests. We are now set to go forward into our third year with our Ethnobotany Library and the classes and special educational events we offer. Join the mailing list to receive new class announcements and news of our other projects. 

On plants and people through time ~
Ethnobotany is a close weave of memory and the future — of handed down knowledge, skills, techniques, and intimate relationship with environment.  Yet ethnobotany also requires innovation, as both cultural needs and habitat evolve and change.
We all know that humans from the four corners of the earth have depended upon plants since well before we were human. Of course, as animals, we depend upon plants and fungi for food, but also for other fundamental needs such as shelter and warmth. When our ancestors picked up the first sticks and stones as tools, then we began to innovate, to experiment, and to design what we could from what grew, from what the environment offered us. We began to develop our knowledge, linked to terrain and plant community, determined by our collective needs. We made discoveries about what grew along the migratory pathways of our curious, handy species. We remembered what we learned and we passed it on.
We fitted together the accumulating know-how and our species' love of story, and from that grew the lore that each language, each culture, holds. The lore —folklore, plant lore, mushroom lore, medicine lore— is much of what ethnobotany is about. It's the way that knowledge is put into words, into timeless verbal threads of story and meaning, that can weave together a hundred generations. How many ways do we make string? Spider Woman taught the ancestors how to do it. How many plants are used, around the world, to make cloth? The Weaver and Loom, who first showed us how, lives in the stars above us, still weaving the fabric of stars. How many tales are told while gathering long, straight twigs, about how the First People learned to make the First Basket? How many songs do the plants sing, still? Can we sing them to ourselves or tell the tales to our grandchildren around the fire? What are the traditions of visionary plant or mushroom ceremonies that honor the ancient spirits and species, yet bring solutions to contemporary people who are desperately seeking answers?
These are some of the questions held within the long view of ethnobotany. These are some of the perspectives that we nourish and explore at Botanical Dimensions — in our book selections for the library, in the classes we teach, and in our fieldwork.
May this year bring our weary species a touch of enlightenment, some peace, and a love of this ancient, living knowledge. May we honor the indigenous and traditional peoples, around the world, who have been the knowledge-holders for so many millennia. We are all the stewards of our garden planet, as native people around the world have long shown us. Remembering and embodying that role is one of the most important jobs we have. There are various ways to find balance in a time of uncertainty. Learning, and then sharing what we learn, is a key role. The plants, and our interwoven relationships to them, give us so much to learn and share.
*  *  *
We have more events coming in 2018 – unique classes, guest teachers, and special events for members only. Read more below about our educational and community offerings. Please sign up on our mailing list to be informed so you may join us. Spring classes will be announced soon.

Meanwhile, at Botanical Dimensions we continue tending our long-term projects: The Mazatec Project in Mexico, the Amazon Herbarium Project in Peru, the Forest-Garden in Hawaii, and of course our hub: The Ethnobotany Library in Occidental, in West Sonoma County, in Northern California. All our work protects and distributes knowledge about plants, cultures, and how they weave together over the time. Your donations or memberships help keep these many projects afloat — Thank you all for your interest and whatever support you can spare. Much appreciated.
*  *  *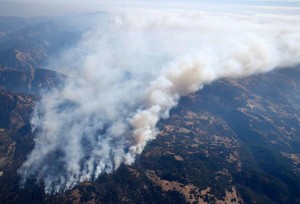 Wildfire sweeps the North Bay hills
November, 2017:
Our North Bay counties (Sonoma, Napa and Mendocino) have just survived massive wildfires. Over 100 square miles were burned. The elements took over for awhile, as wind and fire moved over the land and across the cities too. We are all very shaken by the losses, the fear, and now by the magnitude of restoring the hills and valleys, the streams, roads, homes, farms, businesses, clinics, schools, and lives that will be forever different. There are many good projects to help the thousands of displaced people, but this one deals especially with the undocumented people who are a key part of how our agricultural county operates. They and their families are homeless and yet still working, still very much needed, as they are key members of our community. Yet, due to lack of documents and our federal policies, they often are unable to get help from other agencies. Undocufund.org will help the displaced families who are undocumented, in case you'd like to give there too.
Recent events included these:

Big Botanical Beings in Modern Culture: A speculative workshop on the roles of Magic Mushrooms, Peyote & Ayahuasca  
One full day of rich presentation & discussion on this timely, deep and perplexing subject. Kathleen Harrison's expertise is based on decades of fieldwork in various cultures. If these plants and mushrooms are characters in the Great Story, along with humans, what role do they each play? Whenever we offer this exploratory topic, it generates such good discussion and  food for thought. Saturday, Sept. 9, 2017.  $85 ($75 for Library members).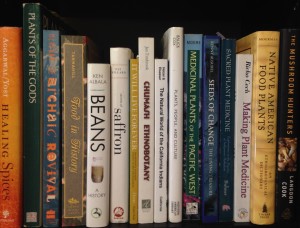 Our first BOOK EXCHANGE & SALE in Sept. 2017 was a great success! Next one will be in 2018.
Bring your books that are relevant to ethnobotany, nature, anthropology, mythology, indigenous studies, botany and mycology, the fungi, shamanism and psychedelic species, herbalism, food plants, gardening, botanical illustration, storytelling, even fiction about plant people ~ Please be sure they are in good condition and relevant. What we don't sell or keep will be donated to our local public library. 
In addition to what you all bring, we'll be selling our own duplicate copies from our collection, and we will offer some special things for sale from the BD and Harrison-McKenna family archives. A bit of art too, plus some things from the  magic mushroom era of the 1970s and 1980s… a gorgeous Huichol painting…  $5 donation requested for entry.
If you want to donate books for sale/trade (or maybe we'll add them to the Library), but you can't attend the sale, we welcome your donation! (Please keep it within the wide range of topics we define above.) You may drop books by on Thursday, Sept. 14, 11am-6pm. Reminder: We are at the intersection of Bohemian Hwy. and Graton Rd., at the north end of tiny Occidental CA. 3830 Doris Murphy Ct., Occidental CA 95465. Phone 707-874-1531 or [email protected]  — Also, the very charming Occidental Farmers' Market happens just up the street on Fridays, 4-7 pm. So you can find good meals there as well as local color, music and local organic vegetables. (We timed the sale to coincide with it.) Regional folks, please come! Faraway folks, we wish you were here…
Sweeping the Mountain of Nerves: Traditional Techniques for Finding & Keeping Balance – with Kathleen Harrison –  October 14, 2017
A special workshop in methods of grounding, cleansing, protecting & renewing oneself & others — using plants along with intention, symbolism, and time-honored traditions. Kathleen Harrison shares what she has learned in years of fieldwork among indigenous cultures and life itself. Lecture, discussion and hands-on experience. Workshop on Saturday, October 14, 10am-4pm. Must register in advance. Tickets $90 or $80 for members of BD's Ethnobotany Library.  Must register in advance.
Cannabis and Spirituality: An Explorer's Guide to an Ancient Plant Ally
On April 15, 2017, we hosted this special event, featuring readings and talks from authors of this thought-provoking new book, at the Occidental Center for the Arts.
Stephen Gray (editor too), Martin A. Lee and Kathleen Harrison gave talks and readings, then discuss this deep topic onstage with each other and with
the audience. In late 2017, we plan to release the video of this unique evening.
Botanical Illustration: Learning to really see & portray plants—with Donna Torres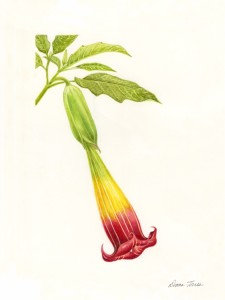 We were thrilled to have a very special artist as our guest teacher. Donna Torres taught this wonderful workshop on Sat. May 13, 2017, assisted by ethnobotanist and illustrator Kathleen Harrison. Donna helps you learn to truly see a plant's form, and from there guide you in how to portray it realistically in graphite and watercolor. A great meditation on form and beauty. Materials provided. All levels welcome, including beginners. 10am-4pm in the classroom adjacent to BD's Ethnobotany Library, in Occidental, CA. 
Note: We hope to have artist Donna Torres and plan to have others teach botanical illustration  in 2018. Join our mailing list to be kept informed.
Global Ethnobotany with a Local Focus – A 4-part series 
A popular 4-month series, one Saturday per month. A survey of the breadth and depth of cultural relationships between plants, fungi and humans—from ancestral folk knowledge to 21st century practices. Group study, discussion, excellent participants. Slideshows, stories, books, walks in local nature to learn local plant uses. Spring 2017. Sign up on our mailing list to hear when this will be offered again, during the spring of 2018.

Ethnobotany of Food Plants & Spices: Their Stories in Our Story –  A weekend workshop on the ethnobotany, botany and history of what we love to eat. Revelations to deepen the experience of each meal you'll ever eat. Lots of anecdotes from the long story of spices to tales of Amazonian cuisine. Know the stories of what you grow in your kitchen garden. Two days with a small group of interested folks. Can be arranged by special request.  
Sign up on BD's email list to be alerted about coming events, and when tickets go on sale. Or check back here soon, or on our Facebook page.
•  •  •  •  •  •  •  •  •  •  •  •  •  • •  •  •  •  •  •  •  • •  •  •  •  •  •  • •  •  •  •  •  •  • •  •  •  •  •  •  •
Botanical Dimensions' Origin & Mission
Botanical Dimensions has been doing good work with plants and people for over thirty years. Founded in 1985 by Kathleen Harrison and Terence McKenna, this non-profit organization is dedicated to ethnobotanical knowledge in its myriad forms.
Our original mission was "to collect, protect, propagate and understand plants of ethno-medical significance and their lore." We do all that and more. We work to preserve biodiversity, respecting natural ecosystems and traditions of ecological knowledge. We appreciate, study, and educate others about plants and mushrooms that are felt to be significant to cultural integrity and spiritual well-being. We share what we learn.
Our Ethnobotany Library welcomes you
Our purpose and passion are rooted in the folk-knowledge and uses—both traditional and contemporary—of the flora and fungi of our little planet. Ethnobotany—the relationship between plants and people—is the primary lens we look through in choosing our projects. Ethnobotany is a vast, branching area of study, filled with marvels, challenges and solutions.
The themes of our projects illustrate some of the branches of ethnobotany and ethnomycology. In 2016, we are thrilled to announce the opening of our Ethnobotany Library. Please lend your support to this unique, non-profit offering. See the blog post about it for details. We also engage in these kinds of activities:
Fieldwork in various cultures, particularly among indigenous peoples of the Americas
Document folk uses of plants and fungi, with photography, audio and video recordings, participatory observation, and ethnographic writing
Assist cultural revitalization projects involving plants, fungi and knowledge of nature
Support local experts in preserving botanical species and herbarium collections
Make the ethnobotanical perspective and its cultural techniques available to a wider appreciation, through teaching and sharing information and images
Sponsor field courses that foster global ethnobotanical awareness, with specific, hands-on, cultural experiences
Educate and empower students to recognize, observe and document plant uses
Protect or restore native species in disrupted natural habitats
Consider the ecological history of a given place, and how that affects the perception and stewardship of nature by humans
To read about current and ongoing projects click here.
Save
Save
Save
Save
Save
Save
Save
Save
Save
Save
Save
Save
Save
Save
Save
Save
Save
Save
Save
Save