LITTLE PLANET, BIG ISLAND:
Botanical Dimensions is sponsoring a travel intensive! This course is taught in a botanically-rich place, with lots of living cultural examples to learn from. To be led by ethnobotanist Kathleen Harrison, from Feb. 13-25, 2013. We will all stay together in a sweet, tropical B&B on the South Kona Coast of the Big Island of Hawaii.
We are accepting applications now, and if you make your deposit by Dec. 20, you'll get a $100 discount, so the full cost will be $2,600. (Fee covers lodging, meals, on-island transportation, field trips, and wonderful instruction. After Dec. 20, the full cost is $2,700.) The first $500 deposit is a tax-deductible contribution to Botanical Dimensions, to help support its renowned Hawaiian forest-garden reserve.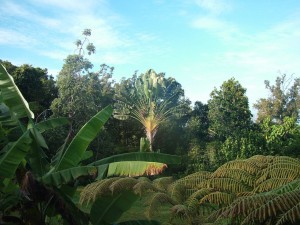 Southwest view of the forest-garden, Hawaii
We will spend two days up on that private reserve, on the slopes of Mauna Loa. We'll learn some botany, phyto-chemistry, and to identify plant families. We will discuss the principles of healing, gather plants and make herbal medicines, visit the live volcano Kilauea, eat amazing local foods, have rich discussions. Hawaiian teacher Momi Subiono will teach us some of the Hawaiian ways of approaching sacred nature. Kat will couch our experiences in the global history of the plant-human relationship, revealing how our ancestors tended the wilderness, and how the story of agriculture that has brought us to this complex moment. She will describe and illustrate shamanic healing knowledge from the Amazon, Mexico and Polynesia. Learn to integrate awareness of plant communication and ritual into your daily life. Expect botany, mycology (study of fungi), history, poetry, storytelling, ritual, music and transformation. Plus, we'll have a great time and you'll make new plant-loving friends. How can you resist?
This is an interactive course that is open to anyone who is seriously interested in the beautiful, essential web of natural connections.  Email info@botanicaldimensions.org to request an application via email, and make a deposit right here through the DONATE button on this website. Limited to 14 participants. Act soon!